Learn how you can quickly and easily create & Track DemoBoards right from your Android Device
The Consensus Android App gives you access to create and track DemoBoards from anywhere! In this article we will walk through using the Consensus Mobile App to bring your prospecting and stakeholder discover and engagement to the next level. You can find the Consensus Mobile App here (coming soon to Play store)
The Dashboard
The Consensus Mobile App Dashboard is built to give you quick insights into your most recently active DemoBoards, along with quick actions: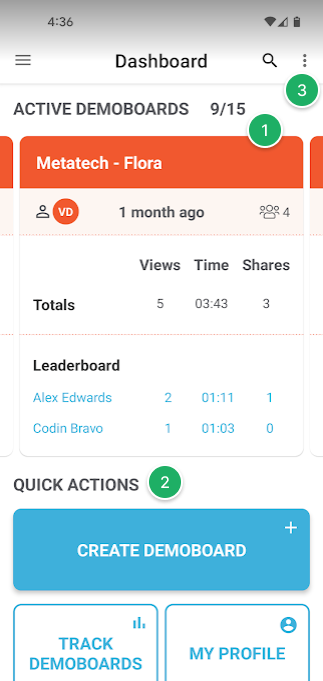 ACTIVE DEMOBOARDS

This section shows up to 15 Cards of your most recently viewed DemoBoards so you can quickly and easily see




View the DemoBoard Organization Name at the top of the Card
View the initials of the Recipient that last viewed the DemoBoard along with how long ago the viewed it
See how many Recipients are included within the DemoBoard
Quickly see high level view data of the DemoBoard included those that have engaged most based on View Time

QUICK ACTIONS

This allows you to jump quickly in Creating or Tracking DemoBoards along with a quick link to your Profile within the Web App.

CONFIGURING THE DASHBOARD

This allows you to set how your DemoBoard cards are presented within the ACTIVE DEMOBOARDS section
Create DemoBoards
The Consensus Mobile App allows you to create and share a DemoBoard from anywhere! Easily create a DemoBoard with any of your Demos and even add a Custom Personal Intro Video right from your mobile device. Below we will walk through the Create DemoBoard flow within the Mobile App.
Step 1: Choose Demo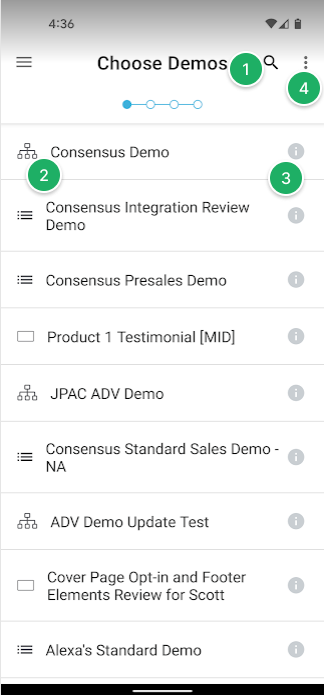 Use Search to easily find the Demo you are looking for
Icons are used to indicate Demo Type

Advanced Branching Demo
Standard Personalization Demo
Single Experience Demo

Click the Info icon () to see details about the Demo

Use the Configure tool to set how the Demos are presented to you
STEP 2: Recipients and Opportunity Sync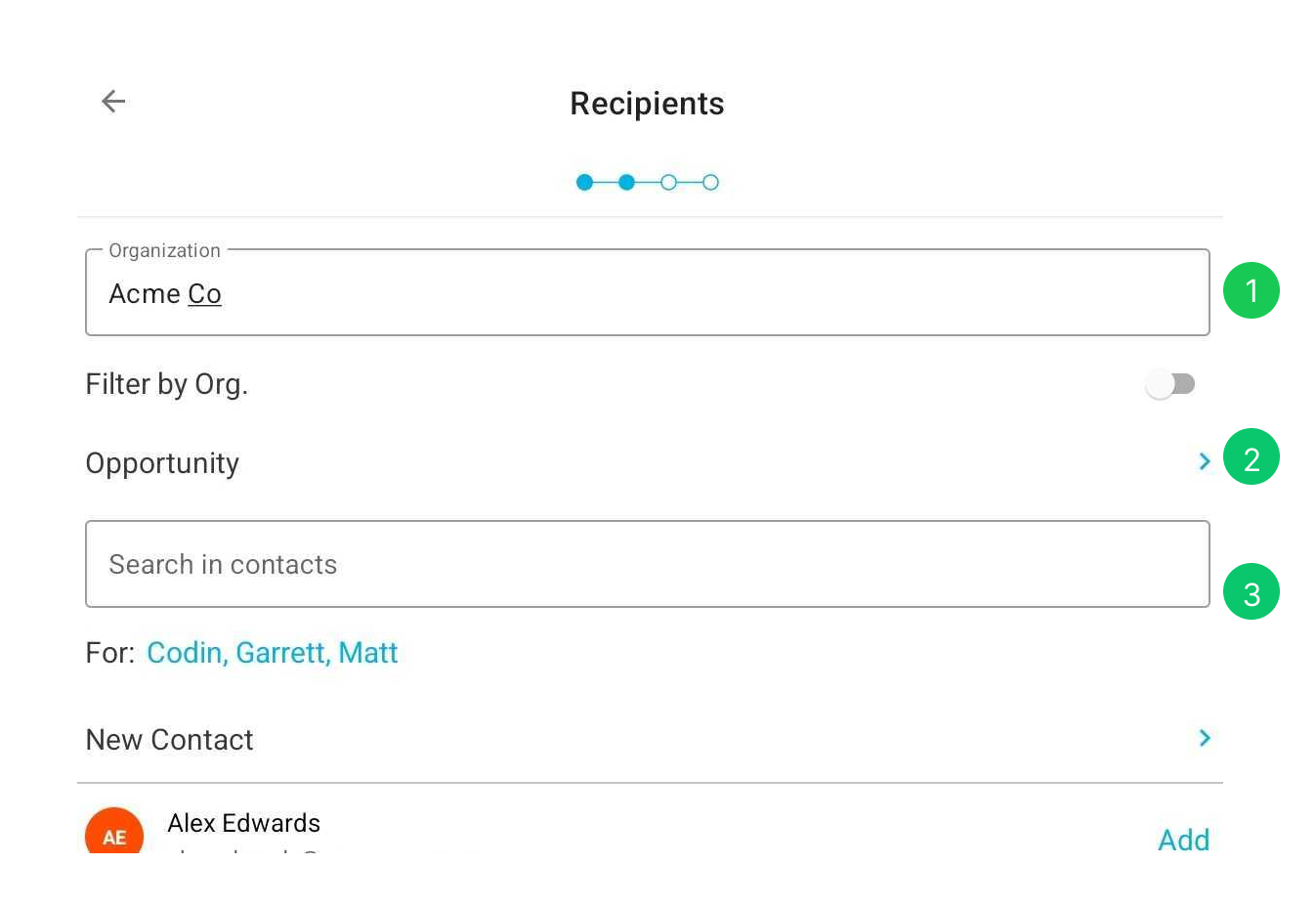 Add the Organization your DemoBoard is being created for
(NEW!) Select and Opportunity
If you have CRM Sync enabled with Salesforce, you can now choose from a list of available Opportunities based on the Account you are creating the DemoBoard for.


Select "Opportunity"
You'll be taken to a new screen in the process called "Opportunity."
First select an associated SFDC account, then select the correct opportunity that for that account.
On each of the Account and Opportunity sub-screens you can search for or select from a list of available results. The accounts and opportunities you see available here, will also depend on any filtering that your SFDC admin has enabled for CRM Sync via our Salesforce plugin (version 10.5 or later).



3. Add recipients for your DemoBoard
the Consensus Mobile App can pull directly from your Contacts to make adding recipients easy!
STEP 3: Personal Intro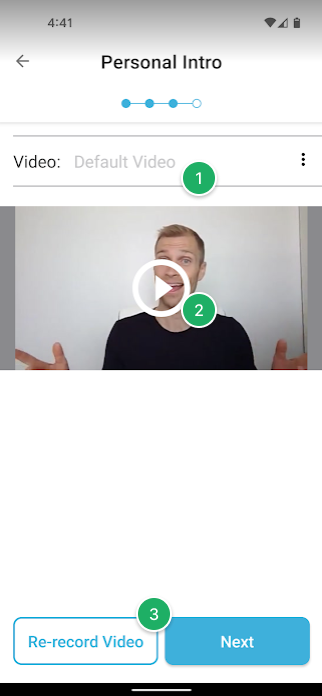 If you already have a Default Personal Intro Video created, the Consensus Mobile App will default to it.

Easily add a Custom Personal Intro Video for your DemoBoard by clicking the Video setting

You can then create a Custom PIV for this specific DemoBoard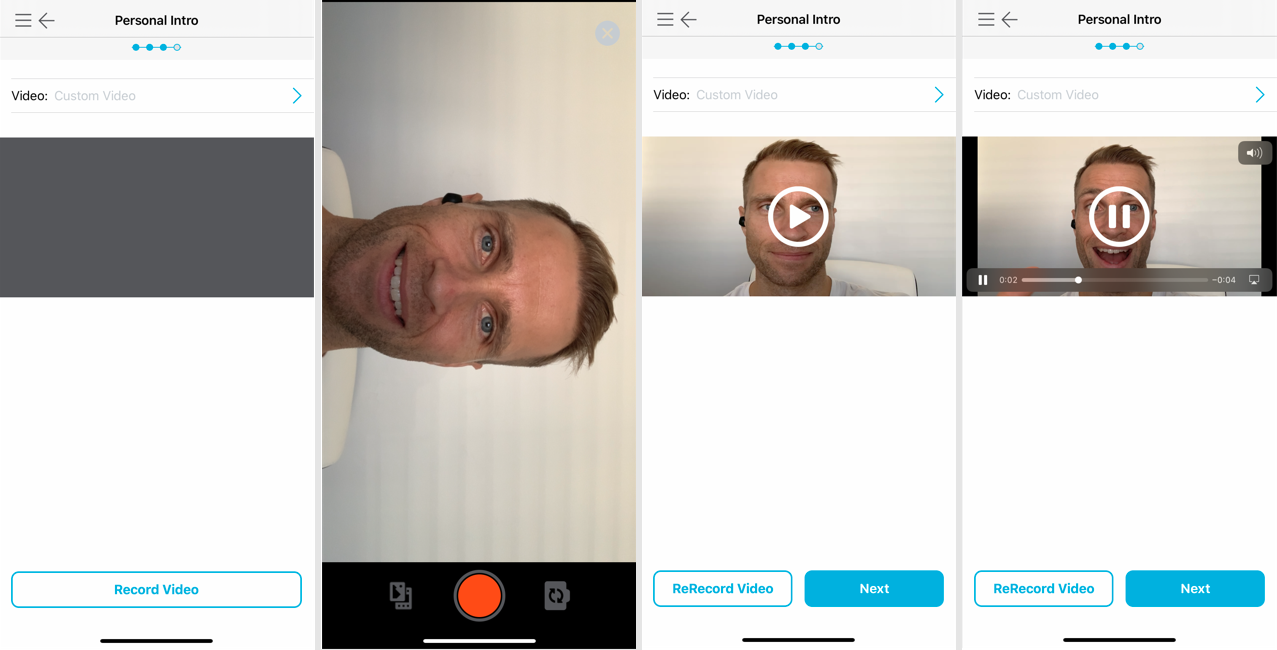 You will want to make sure to allow the Consensus Mobile App to access your camera and mic to be able to record your video
You can also preview your PIV to make sure it is set the way you want!
STEP 4: Share Link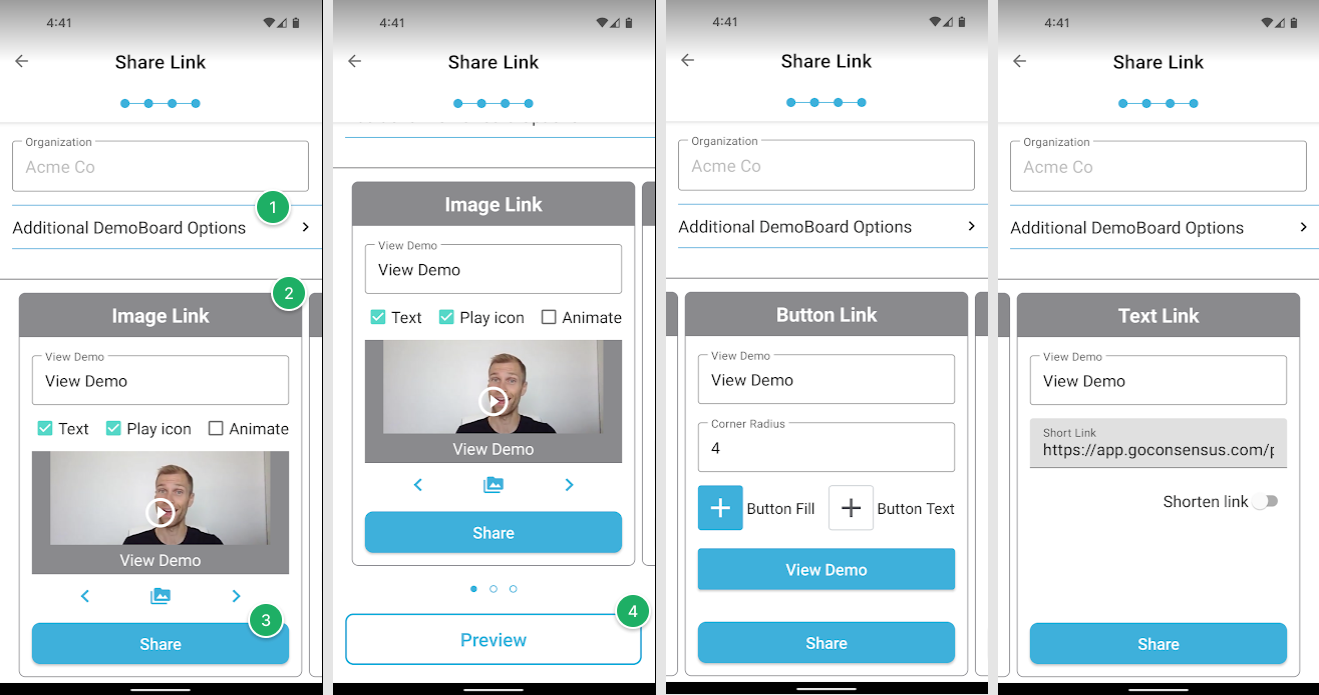 Set any additional DemoBoard Options for your DemoBoard like Users for Tracking & Notifications
Determine which Link Type you want to share with your Prospects. Consensus provides you with an Image, Button, or Text link option
Now simply Share the Demo with your prospects using the Apps right on your phone!

NOTE* Not all apps support image links

Preview the DemoBoard to see what your Recipients will experience!

Don't worry, we won't track any analytics for the Preview link.
DemoBoard Views and Shares for your Demos will trigger push notifications so you know the instant there is action for your demos. These notifications will trigger for all of your DemoBoards regardless of where they are created.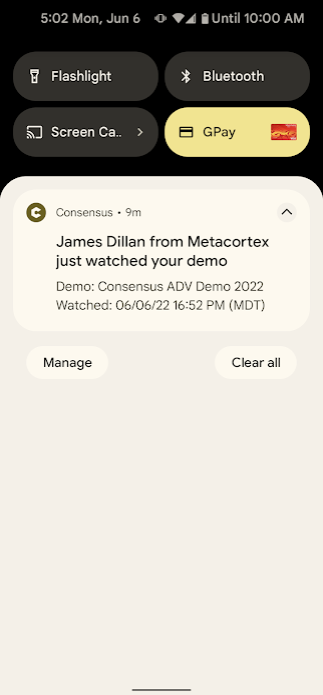 Track DemoBoards
The Consensus Android App allows you to easily track the activity of your DemoBoards from anywhere. Drill down to see feature ratings and individual View Cards for your Recipients.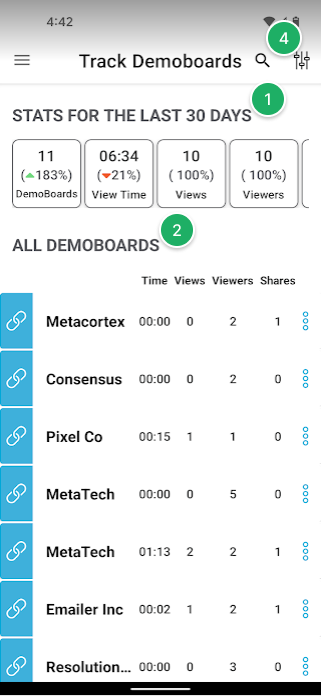 High Level Demo Stats - Views Aggregate stats for DemoBoards. This can be configured to show the last 30 days, 60 days, 90 days, 6 months or 1 year.
DemoBoard List - This shows the list of all of your DemoBoards including the DemoBoard Organization Name, Total View Time, Number of views and Shares

Click down into your DemoBoard to see stats for the Demo and individual Recipients

Click the Link icon to grad the DemoBoard link
Click into a Recipient to see view details for that recipient
Click into the Demo to see Demo view Details
Drill Down
Within the Consensus Mobile App, you can drill down into the view stats of your Recipients. Easily see how long they engaged as well as their feature ratings branching responses!
Demo Details

Viewer Details
App Navigation
You can select the upper left menu to access quick links from anywhere in the mobile app. This allows you to jump directly to the Dashboard, Create DemoBoards, Track DemoBoards or the Consensus Knowledge Base. This is also where you can Sign Out of your Account if needed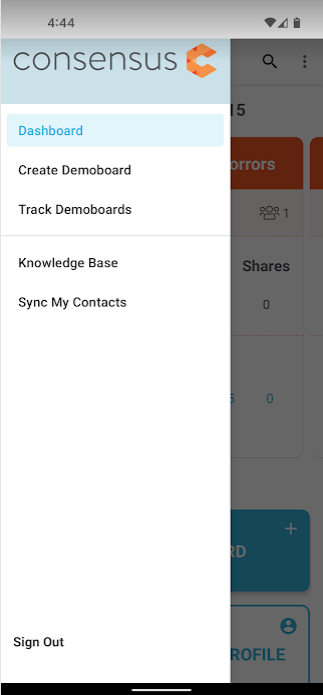 NOTE* Knowledge Base link leads to the Consensus Knowledge Base online
Within the Menu you can also Sync your Contacts from your Gmail and

Within Sync My Contacts, select 'Add New Account'
Then select the service you want to sync to
Once you go through the authentication process you will see your Account listed within your Phone Book: