We frequently recommend that clients use Consensus as a powerful lead generation tool on your website. This use case works best when you can have an inbound sales development rep follow-up immediately after they view the demo.
Step by Step Setup Process

Log into GoConsensus.com/app → Manage Demos → Get Public Link → Copy the HTML Code to embed on your site.
Log into GoConsensus.com/app → Settings → Integrations → Web to lead integration

Add Salesforce Web-to-lead URL
Mapp fields appropriately

Instructions for rep:

Make inbound a priority! As a general rule, follow up with a call within 5 minutes of receiving the Consensus email notification. If you receive it right away, here's how to make the best approach:
Upon receiving viewed notification:
Click "See details". See where they are at in the demo and refresh periodically.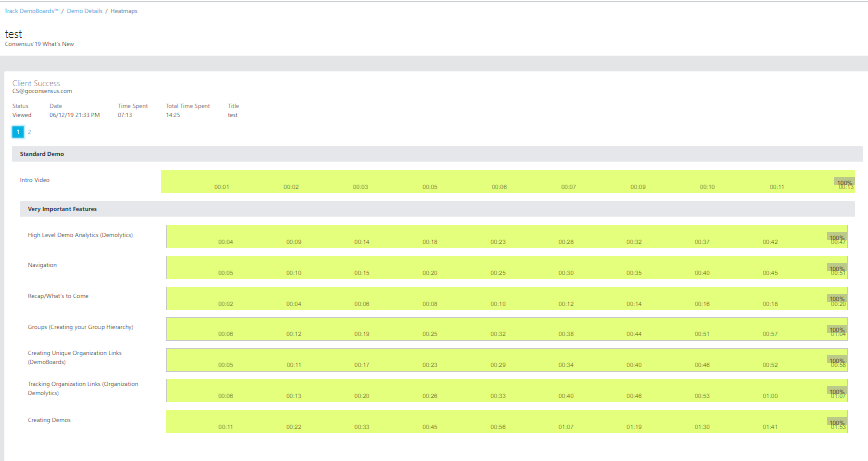 Lookup in CRM: Find them in SFDC or your CRM system. Is someone working with this lead? Have they met with your company before? Do you have any info on them or their company?
If they are brand new to your CRM: Lookup their LinkedIn Profile, find their company website, and do a quick google search on their company. (2-3 min total research time)
If you don't have a good number, get one.
If they answer:

"Hi this is ___ from ___. Thanks for viewing the automated demo on our website! What do you think so far? (now be quiet and let them sell talk)
Give a few high level answers to questions and spin into a longer scheduled conversation with you or a sales rep depending on your internal sales process.
Tell them you'll send over a unique link to the demo, and commit them to share it with others in the meantime.

If they don't answer:

Leave a voicemail
Send a SHORT email:

Thank for viewing the demo
Include unique link to the demo
Ask for a time to talk

Connect on Linkedin
Add to a follow-up cadence. Continue to call everyday, email every other day, and intermittently try via linkedin until you get in contact with them. (Target is 10 more attempt days)
Benefit- These leads are:

Looking for a solution like yours
Educated
Qualified
At their desk thinking about your product when you call
Twice as likely to close
Close in half the time
Results in twice as large of an annual contract value when they do close