In order for any magic to happen within your Consensus account, you'll need to add videos to the platform. Most clients have a suite of videos they can easily repurpose and add within a Single Video or Standard Demo. For those who need to create their own content, we've partnered with Screencast-O-Matic to give every Consensus user a license to their screen recorder tool (pending system permissions dictated by the admin within your account). This partnership allows all users to quickly create video content which can then be uploaded to the Consensus Platform. The screen recorder also includes a suite of editing tools which are incredibly simple to use.
To get started, you'll need to download the Screencast-O-Matic tool. Once you log into Consensus go to Demo Management > Screen Recorder: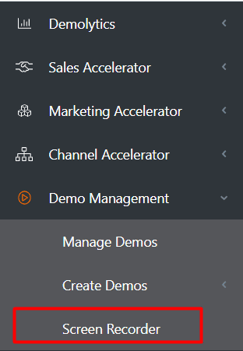 This will take you to the Consensus - Screencast-O-Matic partnership page. Put a tick on a small box in "I agree to the Terms of Service" then click on Launch the Recorder (the installer will walk you through a few steps and download the tool to your computer):
Do not click on the "Sign Up, It's Free" button as this will download a different version of the screen recorder

Once Screencast-O-Matic has been installed, you'll be able to access the tool at any time (you do not need to be logged into Consensus to use the screen recorder). Simply find the Screencast-O-Matic application and open the program.
When you open Screencast-O-Matic you'll see the following screen. You can either click RECORD to launch the screen recorder or you can click IMPORT to add existing video files into the screen recorder to be edited: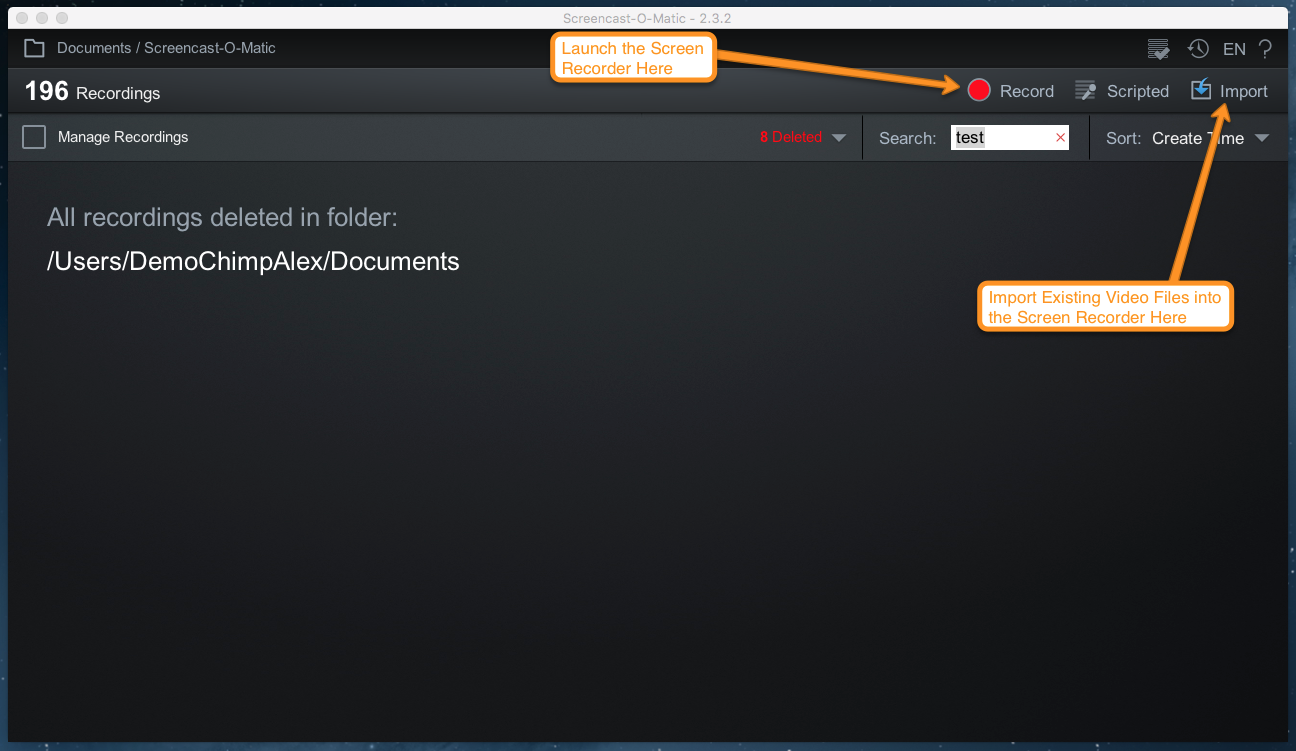 When you click RECORD it will launch the screen recorder and allow you to choose if you want to record using your Screen, Webcam, or both. You'll also be able to choose if you want to record Fullscreen (1080p), 720p, or 480p (we recommend 720p as the Consensus demo player has a 16:9 aspect ratio).
Last you'll be able to choose what microphone to use while recording. We recommend a wired microphone or use your computer's built-in mic (do not use a bluetooth headset as the audio connection can be unstable resulting in poor narration):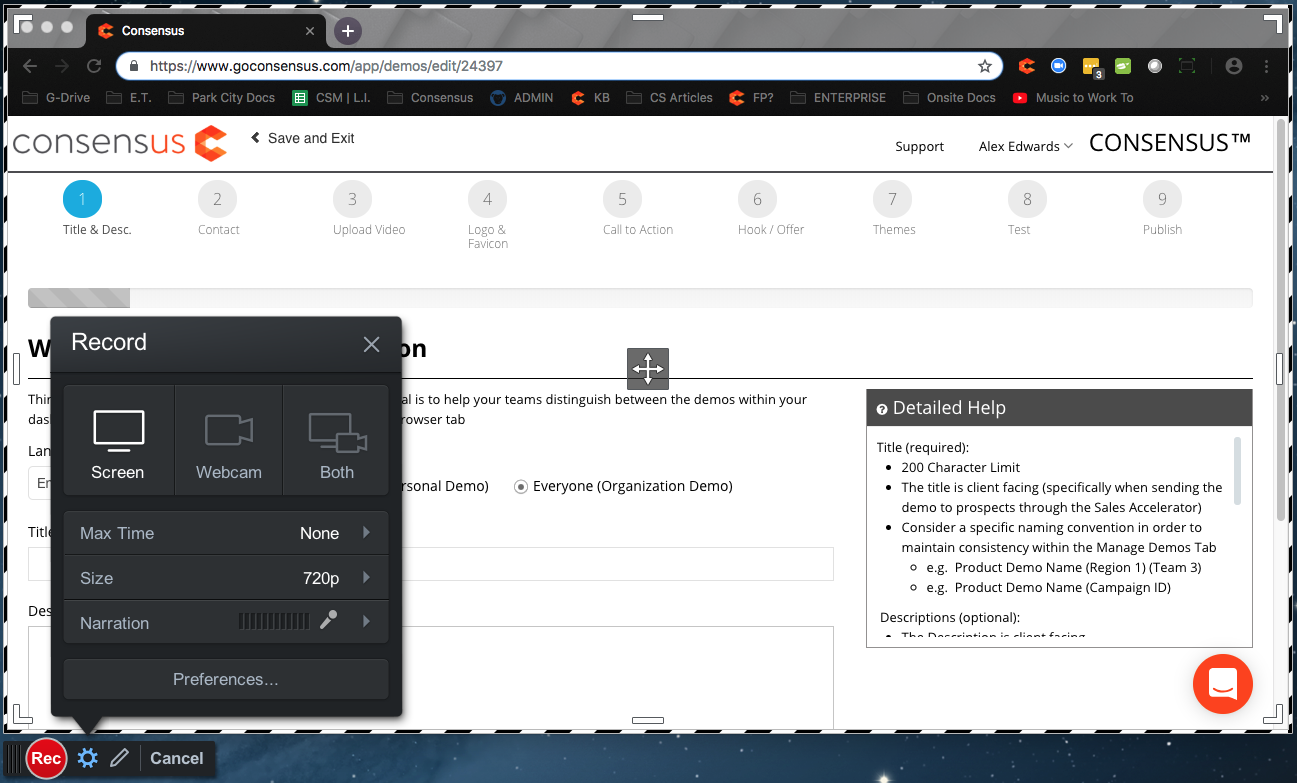 Once you're finished recording, you can edit the video with Screencast-O-Matic's built-in editing suite: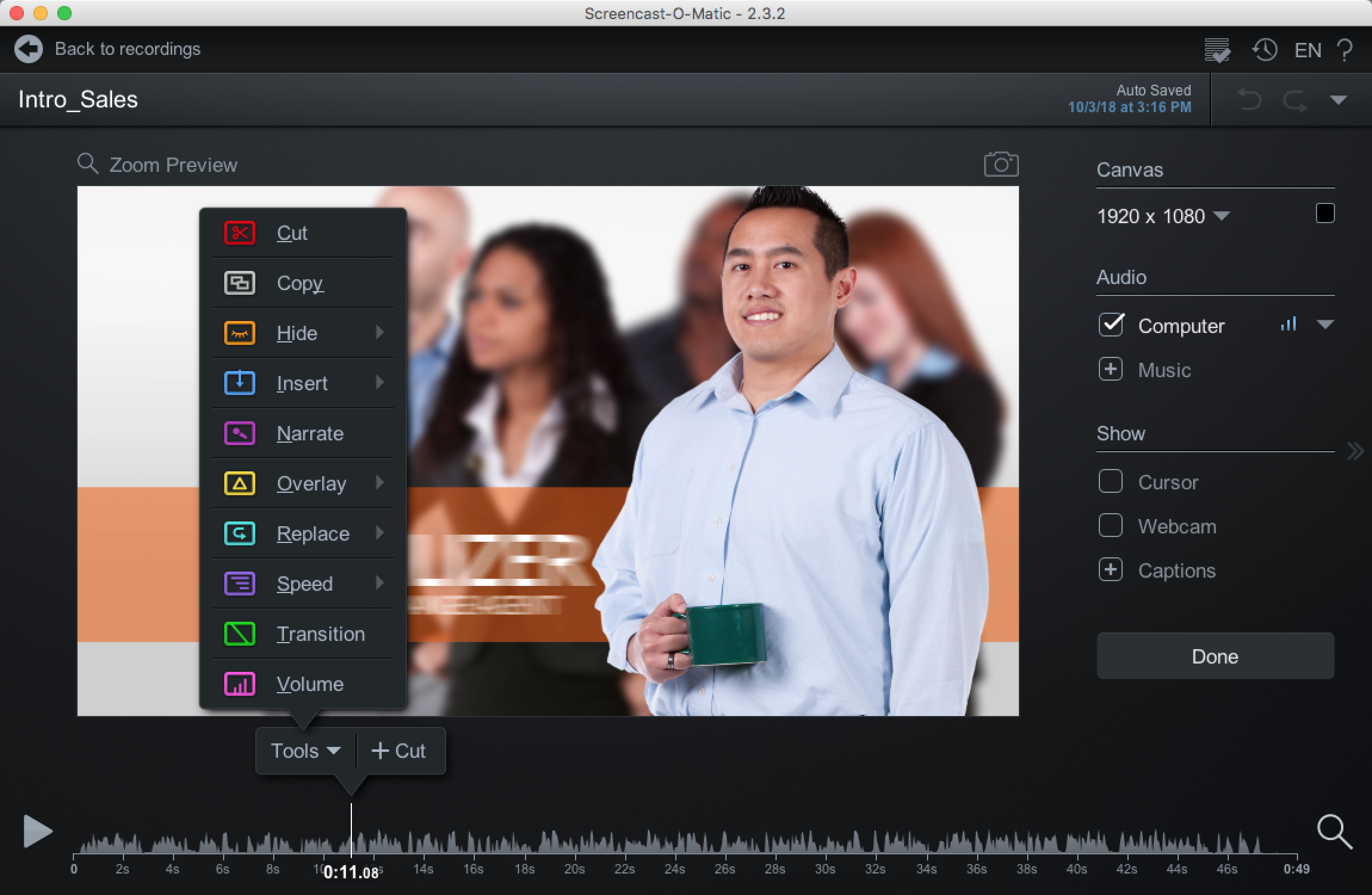 Once you've finished recording the different videos for your demo you're ready to jump into Consensus and create your demo. You can view our article on creating a standard demo here.