This article provides steps for how accounts can add Consensus automated demos to their G2 profile
In January 2023 we partnered with G2 to find new ways for customers to utilize their automated demos when building sales pipeline and demo qualified leads.
As of writing this article, G2 has seen that interactive demos on profile pages are getting 2-3x better engagement than other media. We also anticipate that due to the nature of how prospective customers utilize G2, having a quick and efficient way into an interactive overview demo of your product and its feature sets will help drive more qualified conversations and grow sales pipeline.

There are two options outlined below for including Consensus automated demo URLs within your G2 profile, and you can read more HERE on G2's documentation.
Option 1: Interactive Demos
Interactive Demo enables you to highlight your product's key features via a self-guided tour embedded directly on your G2 product profile.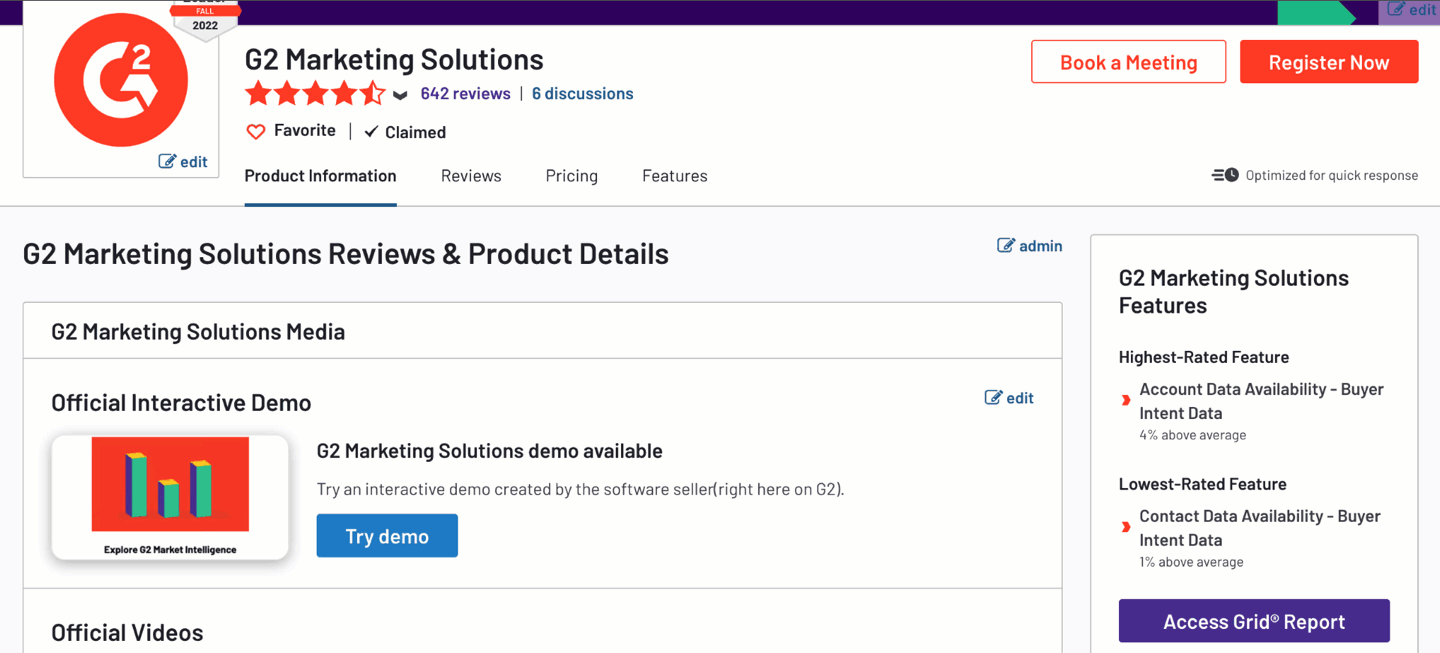 Where demos appear on your profile
Interactive demos are displayed in the Media section of your G2 product profile.
When a buyer selects Try demo, your demo appears within a lightbox inline to the G2 experience.
Option 2: Custom Profile CTA Buttons
If you want to draw additional attention to your demo, you can create a custom CTA that links to your demo directly. You can see this on our current Consensus profile where we've included a direct link to a customized demo for G2 customers via a button labeled "Experience a Demo."

You can read more about these here: https://documentation.g2.com/docs/leads#cta-settings
The Custom CTA option adds a button with your custom text to the top-right of your G2 product profile page. Use this option to direct buyers to any webpage. Note, this option will open your demo URL in a new tab on the browser, not inline as a popup on the page like the interactive demo feature highlighted above.
To add a custom CTA:
In the CTA URL field, enter the link for the webpage where you want to direct customers.
Select the Custom CTA slider to move it to ON.
The following image shows an example of a custom CTA on a G2 product profile page.
Best Practices and Recommendations:
Create a custom demo tailored and personalized for your G2 Audience. Take a look out example here: https://play.goconsensus.com/u56f9ae7f?autoplay
Create a generic Mail Merge Link for the demo, where the viewer will first be presented the MM Form. The benefit of using an MM link is that if several people from the same Org watch the Demo on your profile they could all be combined within 1 DemoBoard! The link you create and upload to your G2 profile will look like this:

https://play.goconsensus.com/s411a772f?fn=&ln=&em=&co={name=your team, company=your organization}&do=
*NOTE: If you are a customer who has access to Marketing Accelerator, you can also use public marketing links on G2
Add your Consensus Demo URL as both an "interactive demo" on your page that can open up on the page, AND as a custom CTA to ensure maximum visibility. You can follow G2's embedded documentation HERE if you need some additional tips: