In this article, we will walk through the steps to create a mail merge demo link and provide supporting articles on how to implement the link into your email marketing service or sales email tracking tool.
1. Log in to the Consensus platform and click on the Cog icon in the upper right-hand corner, then click Mail Merge


2. Click Create New


3. Now enter a link name, select the corresponding demo, and the mail merge platform: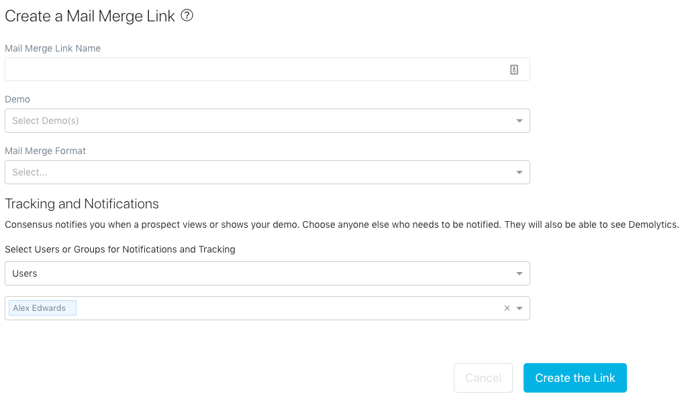 It's important to note that the Mail Merge Formats already defined in the Consensus Platform are for the default field names for the following:

First Name
Last Name
Company
Email
Title (optional)
If your mail merge platform is not already listed in Consensus then you have the ability to define the merge codes by selecting "Other":

Note: The Mail Merge Link views and analytics are tracked within "Track Demos Sent" within the "Sales Accelerator". The Mail Merge link is unique to the user that creates it and the demolytics will only show under that users account. You can also add notifiers which will allow them to see the demolytics within their own Track Demos Sent as well as receive email notifications for demos views from this Mail Merge Link:

4. You now have the link that can be pasted into your sales email tracking tool or email marketing service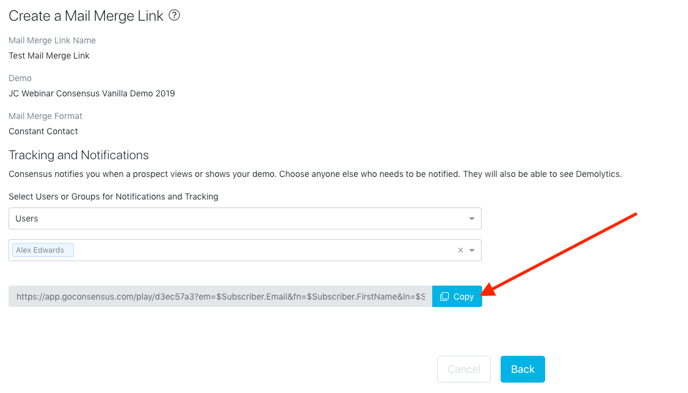 Now you're ready to place this link in your email blast tool and start sending personalized demos!!