Open Snap and click on the "+ New Video" button in the top right.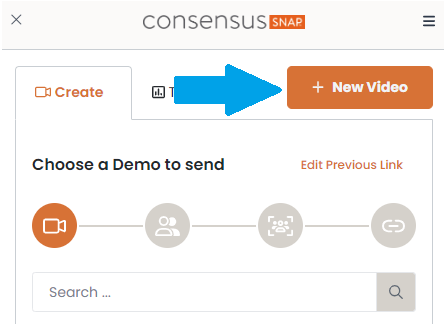 You have the ability to choose if you want to record your Screen, Window, or Tab with the option of also having your Webcam on. We recommend you also use a wired microphone or your computer's built-in microphone when recording. We do not recommend using any Bluetooth headsets as the audio can drop in and out depending on your connection.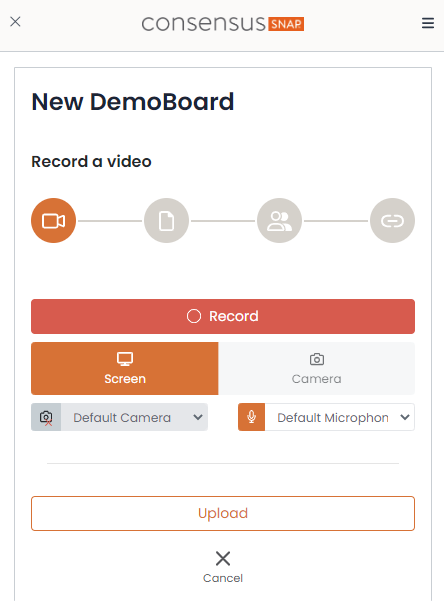 Next, you'll confirm which screen you'd like to record. If you have multiple screens being displayed you'll need to choose which one to record: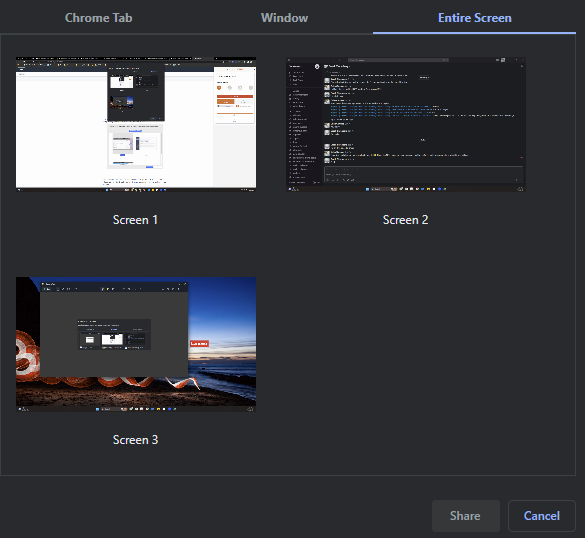 As soon as you click "Share" the screen recorder will give you a 3,2,1 countdown (displayed within the Snap Extension). Once the countdown has finished the recorder will begin.
When you're finished recording your video you have multiple ways to stop the recording. If you leave the Snap window open while recording you can click on the "Finish" button: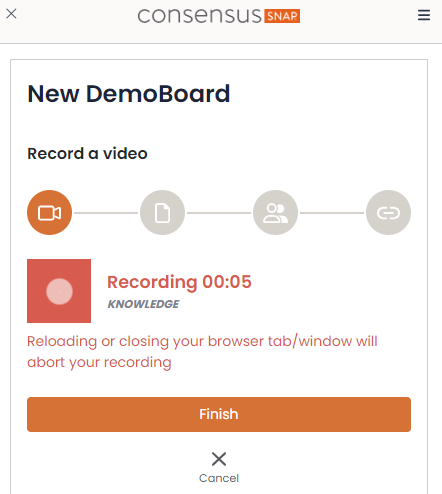 If you closed the Snap window while recording then you can also stop the recording by clicking on the "Stop Sharing" button found at the bottom of the page:

You can also stop the recording by clicking on the Consensus Logo (which will be blinking red to signify it's recording) up in the top right of your Chrome Browser:

Next you'll be taken to the Editor. Here you can:
Edit the title of the demo
Crop the window
Trim the beginning or end of your video by moving the orange sliders found on the left and right of the play bar
If you recorded with your Webcam on, move the location to one of the corners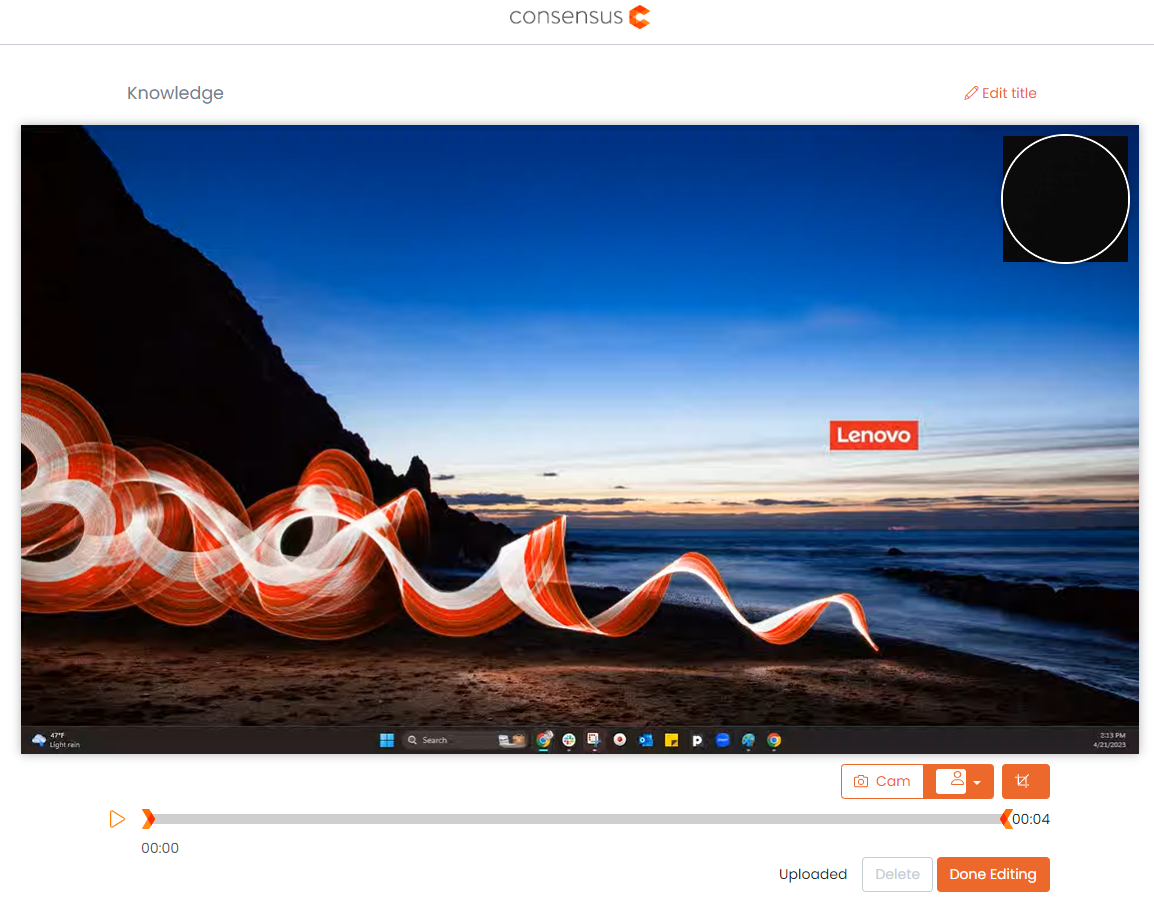 Click on "Done Editing" and SNAP will launch and start uploading the video. When the video is uploaded and processed you'll be able to move to the next step by clicking on the Next button in the bottom right-hand corner: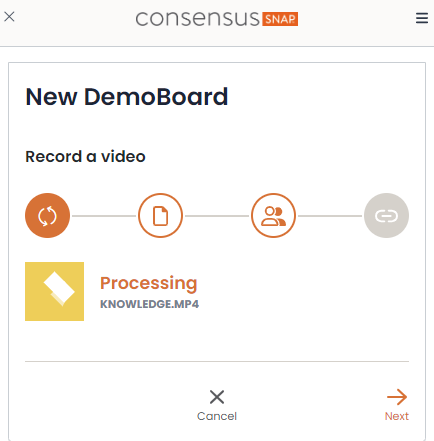 In the next step, you can add related documents to the demo (PowerPoint, PDF, and Word Documents are all accepted within this section). Click on the Add Document button if you want to include an attachment to your video.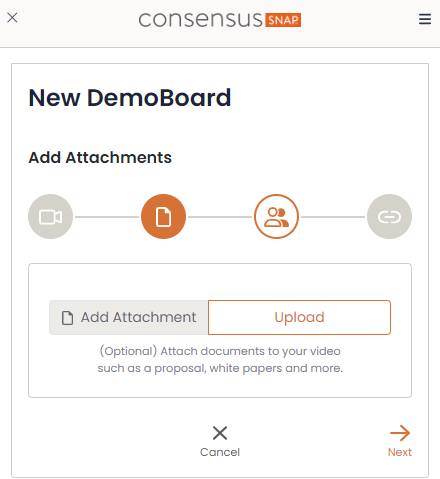 Next, you'll name the video you've created and then fill out the Organization you're sending this demo to, along with the recipients who will receive the demo: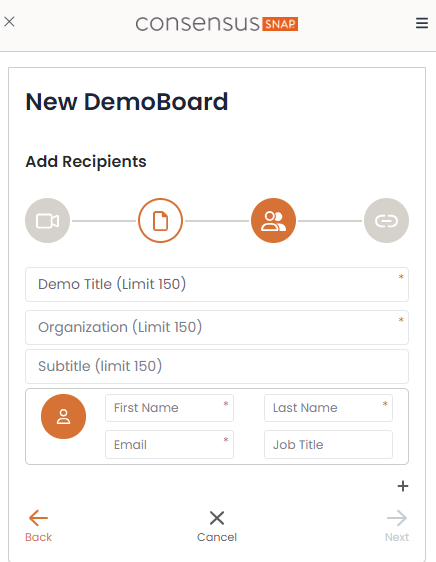 When you've filled out this information click "Next" and you'll be able to pick which type of link to copy and paste into your email: