Utilizing the Global Demo Footer to link to your privacy policy
A question that often comes up is "how do I add my privacy policy to my demos?" This is a simple link that's applied to the global demo footer under the global demo settings. Here are the steps to add the link to the Global Demo Footer.
1. From the home page, navigate to the Global Demo Settings. Keep in mind as you make this update that it's a "global setting" and will update across all of the demos in your platform.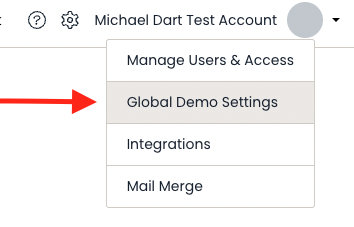 2. Next, you'll click on the Global Demo Footer tab.

3. From here you will be able to input a link to your privacy policy or any other external link that you would like. From the Global Demo Footer you will also be able to insert text indicating a copyright, and toggle on/off if you would like to display this footer on the Contact Form or Who are you page. You will also be able to see a preview for how it will appear on the demo.

4. Finally, feel free to open up a demo in preview mode to make sure everything looks correct.