How to change where the lead gate pops up
Consensus gives you the opportunity to set a Lead Gate within Standard and Single Video demos that you wish to post publicly. This allows you to use your demo in marketing efforts as a powerful Lead Generation tool. To adjust the Lead Gate positioning within your demos go to Demo Management > Manage Demos > then click Edit (PENCIL Icon) next to the demo you want to adjust:

Skip to Step 5 (Additional Interactions) within the Demo Wizard:

Choose one of the following options from the drop-down menu: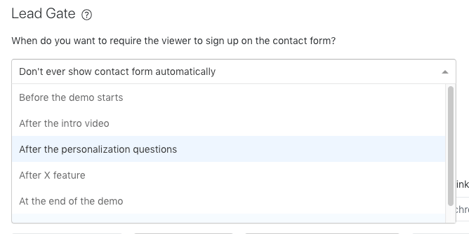 Once you have the Lead Gate set where you want, click save and exit and you're done!