How to change where the lead gate pops up
Consensus gives you the opportunity to set a Lead Gate within Standard and Single Video demos that you wish to post publicly. This allows you to use your demo in marketing efforts as a powerful Lead Generation tool.

To adjust the Lead Gate order it appears in your Demo:
Navigate to the Demo Management tab found on the left-hand side within the menu bar and select "Demo Library"
Within the "My Demos" tab or the "Demo Library" tab find the Demo you want to edit the Lead Gate position.
In the "Actions" column, select the "pencil" icon of the Demo you want to edit.


4. With the Demo Wizard now open, select step 5 "Additional Interactions" to edit your Lead Gate placement from the drop-down.


5. Click "Save & Exit" and the Demo and past DemoBoards featuring this Demo will be updated automatically.
A user must have the correct user role assigned and access level
to the demo in order to edit the demo.
Choose one of the following options from the drop-down menu: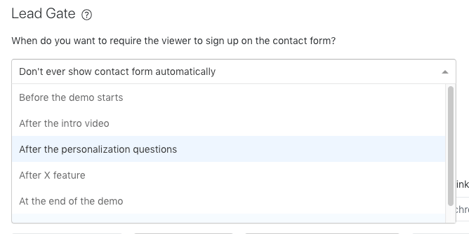 Once you have the Lead Gate set where you want, click save and exit and you're done!