Creating a DemoBoard for a client inside Consensus is simple. When you create a DemoBoard in Consensus the platform will create a unique URL which will be tied directly to each prospect you add within that organization. This allows us to automatically generate Demolytics for each prospect as soon as they click to watch the demo.
Start by going to Sales Accelerator > Create DemoBoard:
Start by selected which demo you want to use to create your DemoBoard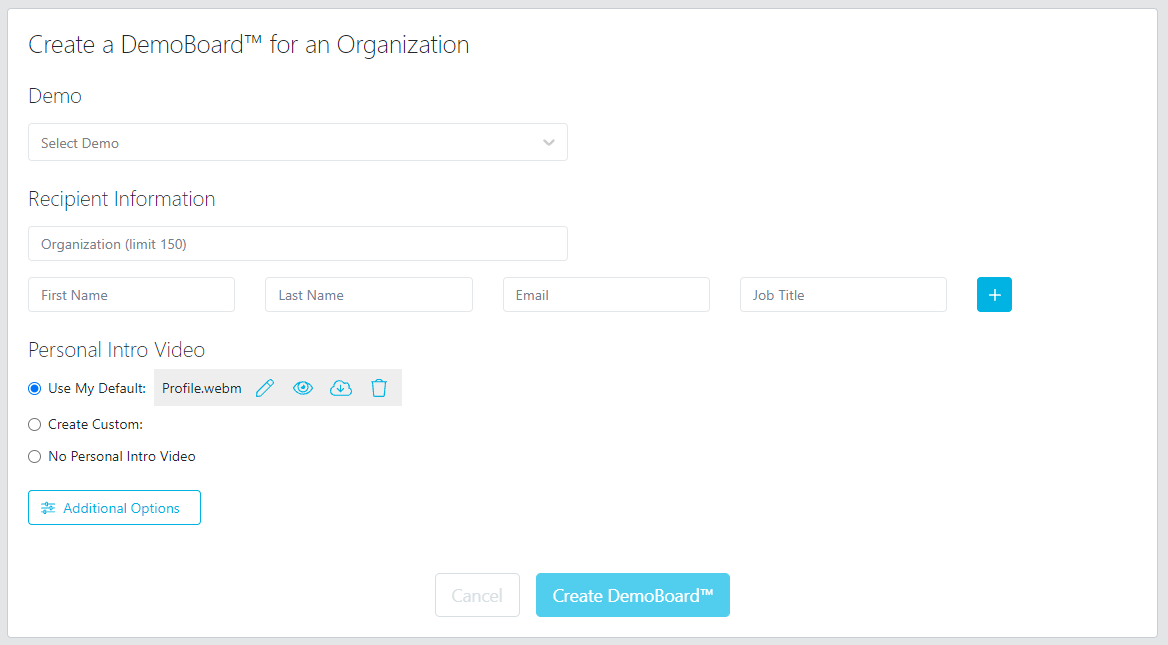 Next, add the following recipient information to the DemoBoard:

Client's Company Name (Organization)
First Name
Last Name
Email
Title (optional)

Optionally, you can add a Personal Intro Video that plays within the Who Are You page of the DemoBoard. This allows you to add a personal touch for your Recipients.
The final step is to choose who you'd like to add as a notifier for this DemoBoard. A 'notifier' can either be a specific rep/s on your team or a group which has been created. These notifiers will receive the same notifications you receive when a prospect views, shares or interacts with the DemoBoard. You will add the notifiers by clicking the Additional Options button and adding the user. From this tab you can also toggle on the show user contact info, see this Article for more info on that feature, or mark the DemoBoard as a test.
Once you've added Notifiers you'll simply click "Create DemoBoard"
That's it! Now you'll have the ability to choose from three different DemoBoard Call to Actions you can use to add to your prospect outreach whether it is through email, chat, text or however you are communicating with them: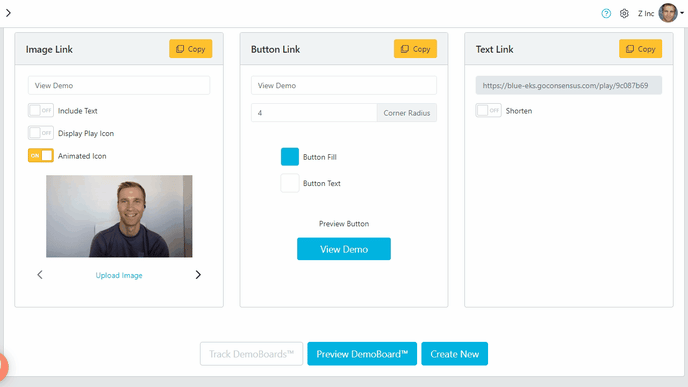 The Image Link is our most popular Consensus Snap CTA and now it's available within the Consensus19 Platform! You can either leave the default "View Demo" text or you can further personalize the text by adding the name of the company you're creating the DemoBoard for or the name of your champion.
You also have the option of creating a button or use a simple URL which can either be left as is, or shorted using a bit.ly link.
Once you've found your perfect CTA you're ready to copy and paste it into your email and start receiving notifications when your prospects start watching the demo!!!