How to send Demos with Snap.
To send a demo through Snap you'll need to login to Snap using the same credentials you use in the main Consensus Platform. If you can't remember your password you can reset it here.
When you log in to Snap you'll see two different tabs, one for Create New and another for Use Existing. For this walkthrough, we'll be going over sending existing demos (demos you already have uploaded in your Consensus Platform). If you'd like to know how to record your own personal video using Snap please see the following article: Recording a Personal Video with Snap
Click on the "Existing" tab and you'll be able to search for the demo you'd like to send. Click the demo you want to send or hover over to see the Preview icon you can click to pull up a preview version of the demo: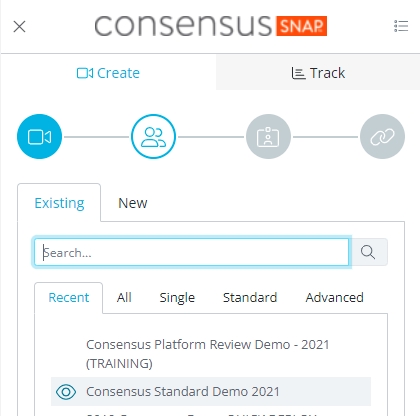 Next, fill out the organization details for the DemoBoard. Please note that the name of the organization will show up for the recipients so you'll want to make sure you put down the correct organization name and NOT your own company name: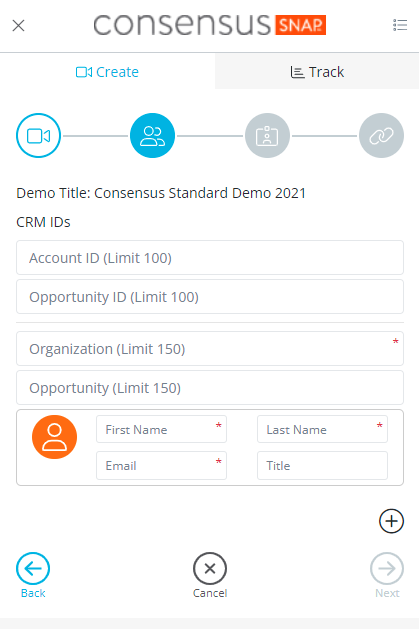 Account and Opportunity IDs are options ID fields that can be used to pass via Consensus APIs into your CRM
When the recipient clicks on the link you send them they'll see the following page: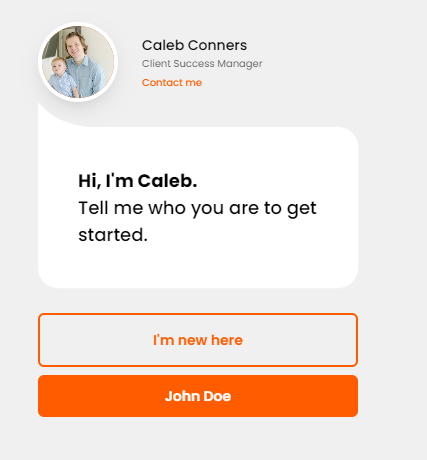 Next, you'll fill out the Name, Email and Title (optional) of those prospects you're sending the demo to. Once this is filled out you're ready to create the personalized link!
Click on Create Link and you'll see three different options you can choose from. All three options will take the recipient to the same place, it's all a matter of how you want to display the call to action within your message: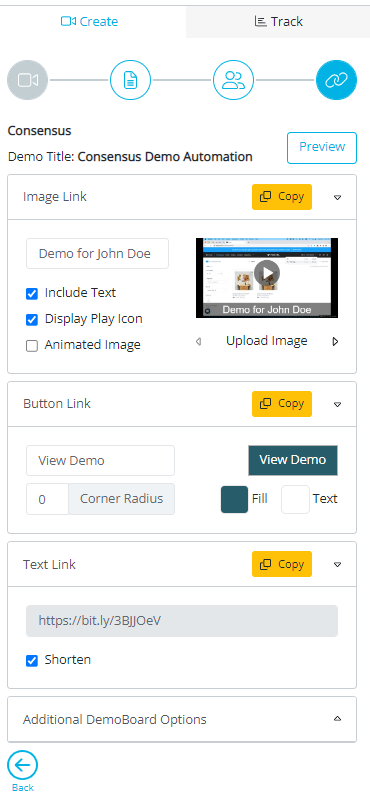 DemoBoard Expiration
NEW! We introduced DemoBoard Expiration by Days in Nov' 2022.
During DemoBoard creation via Snap, you can now set an expiration date for the Demo you are sending to a customer or prospect.
Select "Additional DemoBoard Options" and you'll now see a new option to toggle on/off Expiration by Days, and set either a date or number of days in which you'd like the link to expire.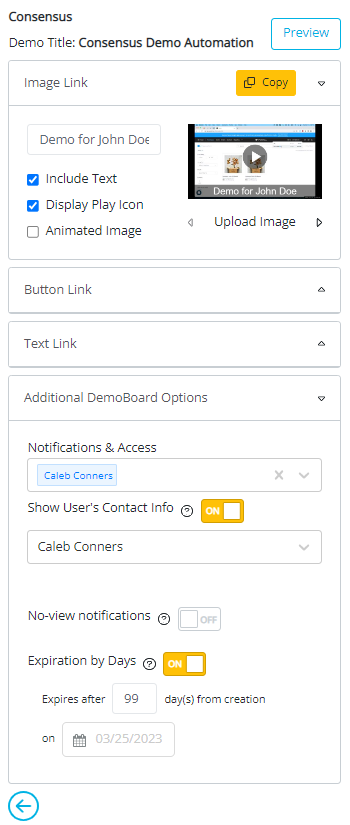 Once you've customized the demo CTA and the DemoeBoard options, you're ready to copy and paste it within your email! We recommend using the Image Link, but try them all and see which one gives you the best response!
If your company uses Gmail then you'll notice that Snap will automatically show up in your Gmail account when you compose an email.
The only difference when sending demos using the Gmail Snap extension is you'll need to add the recipients to the "To" section of your email before you open Snap in your email, everything else will work as previously explained: