In this article we will review the permissions within the Standard Consensus Roles as well as creating Custom Roles
Within Consensus, you can use Roles to limit the permissions your Users have within your Account. There are several System Roles that make it easy to give the permission your Users need right out of the box

You can find the Consensus Roles & Permissions by clicking the gear icon (

) in the upper right hand corner and then selecting 'Manage Users & Access':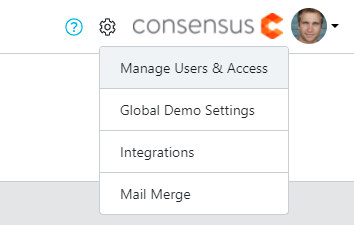 the 'Roles & Permissions' tab contains all of the System Roles as well as any Custom Roles you create:

We'll start by reviewing the System Roles available within Consensus. Below is a quick breakdown of the permissions that each of these System Roles has: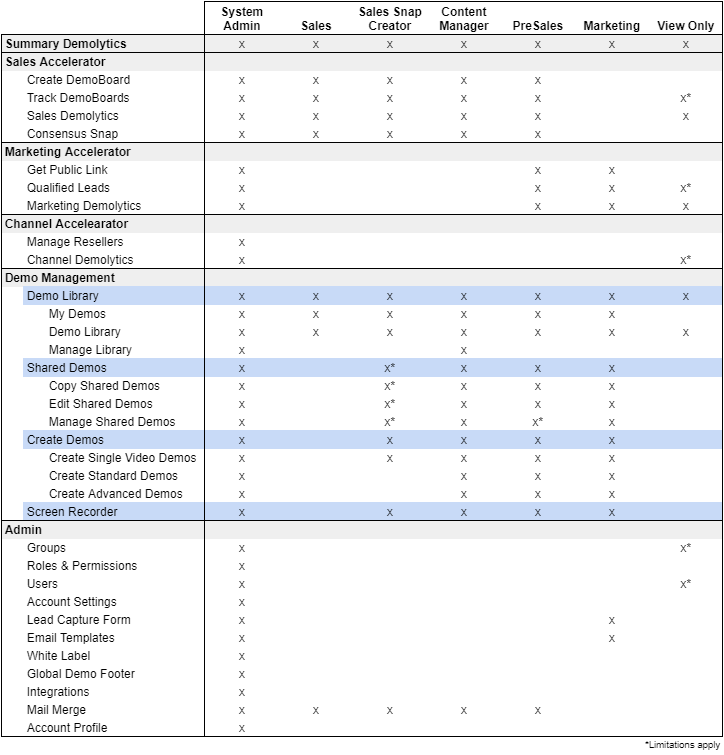 Now let's dig into what each of these areas of permission represents: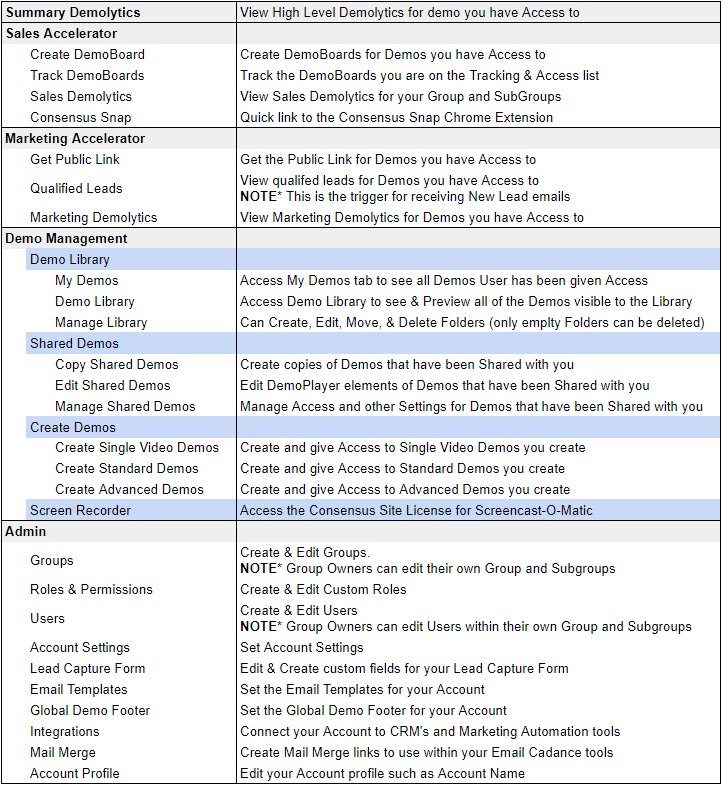 Lets review some of the limitations within a few of the System Roles
Sales Snap Creator

Share Demos - These Users can only Copy, Edit, or Manage Single Video Demos

Presales

Manage Shared Demos - These Users can only delete Demos the have created

View Only

For All pages available to this role, these Users can view data but cannot edit or manage anything
Group Owner Permissions
Group Owners can be set within Groups that give Users special permissions to manage the Users within their Groups and Subgroups. Below are the permissions granted to those set as Group Owners:

Learn more about Setting up Groups and Group Owners here
Demo Permissions
Demo Permissions within Roles allow Users 'Up to' that Access. For each individual Demo you can determine what level of Access you want the User to have. This is broken down into four levels:

Can Use - This allows Users to 'Use' the Demo to create DemoBoards or Public links (based on their Role Permissions)
Can Edit - This allows Users to edit the DemoPlayer aspects of the Demo such as Video, Logos, Documents, Features, etc...
Can Manage - This allows Users to manage the backend aspects of the Demo such as Demo Access and Tracking elements, along with Deleting, Archiving and Unarchiving
Is Owner - The Demo Owner has Full Access to the Demo and is the only one (other than Admins) that can Permanently Delete or Restore a deleted Demo
This level of Access can be updated after the User has been granted Access, so if you need to bump up or down the level of Access you can do so at any time.

NOTE* When giving Demo Access to a Group (or All), only 'Can Use' Access can be granted

Custom Roles
If these System Roles don't meet your needs for your Users. You can create Custom Roles that allow you to set up a custom set of permissions. Custom Roles can be created from within the Roles & Permissions page by selecting 'Add Role':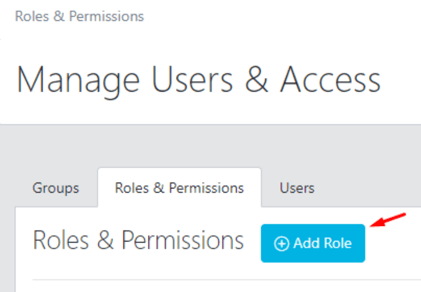 Clicking Add Role will bring you to the New Role page where you can set the Name and permissions available within the Role.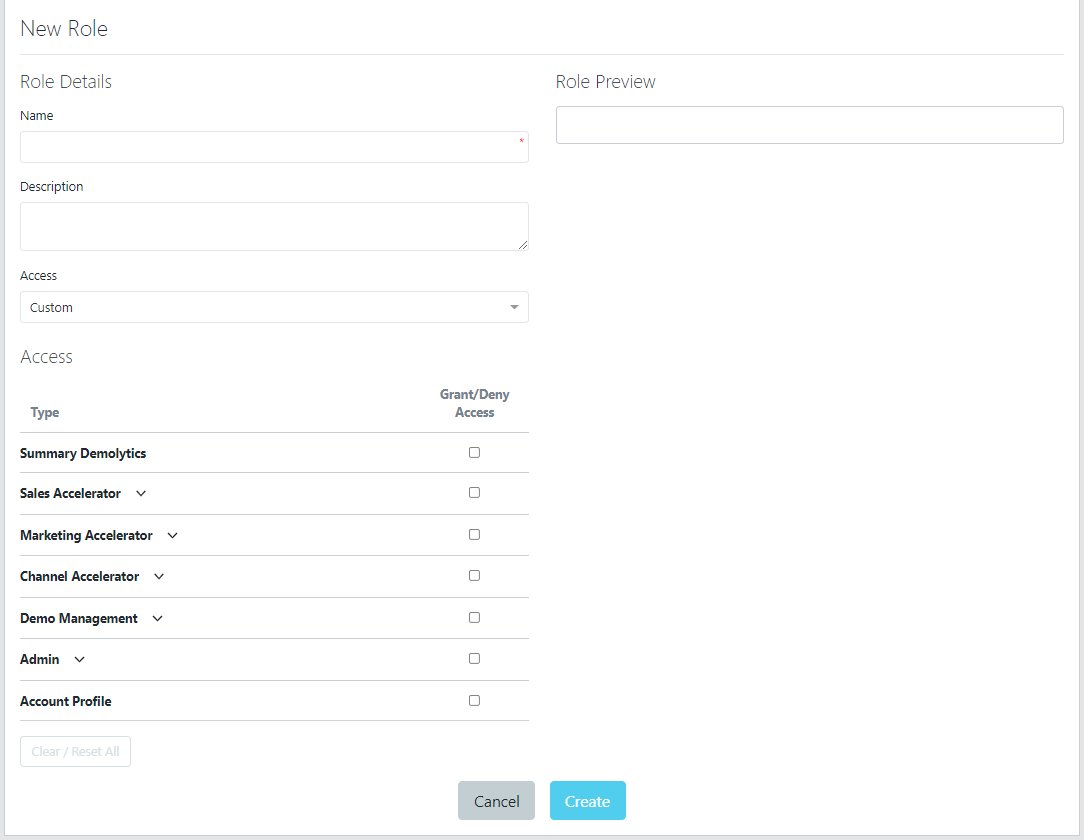 You can use one of the System Roles as a template to work from by selecting the Role that most closely resembles the Custom Role you want to create within the Access drop-down: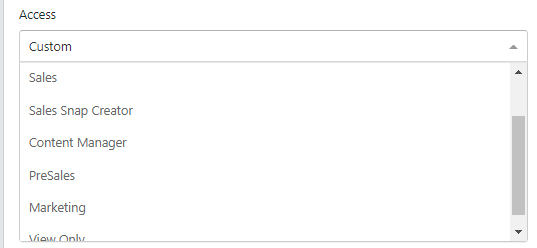 Selecting one of these System Roles will automatically add the permissions available to that role in the Access available to the Custom Role. From there you can now customize the permissions by adding or removing any permissions needed: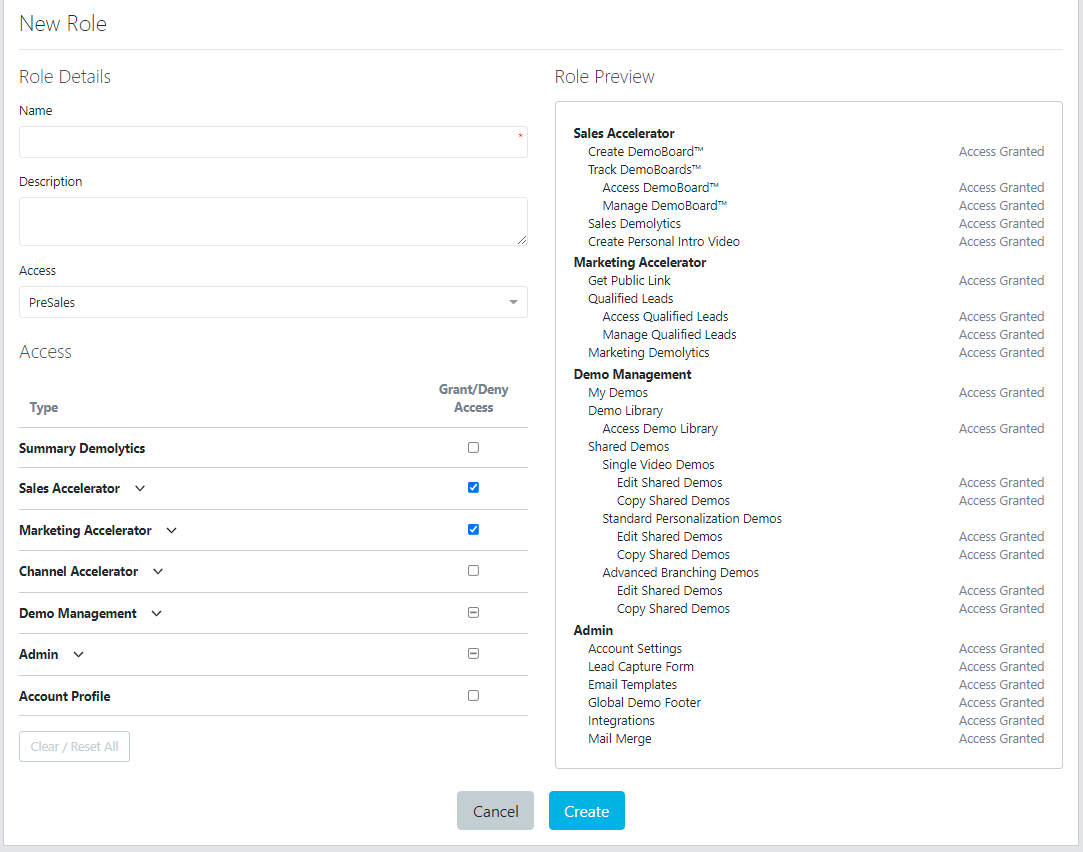 You can expand each of the Access areas to customize the permissions for the role.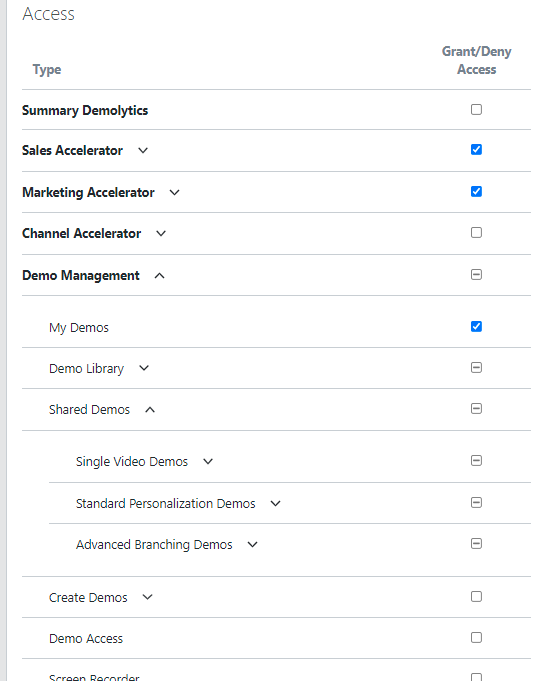 All roles (including Custom Roles) automatically have access to the My Profile page to ensure that your Users can update their personal information as needed.
Once your Custom Role is ready to go, simply click Save to add the new Role to your account. Once saved, you will see your new Role appear in the Roles & Permissions page and can start to assign your Users your new Custom Role.

You can edit your Users' Roles within the Users tab just right of the Roles & Permissions tab. This can be done by quickly editing the Role right within the Users table, or by selecting the Edit icon (

) and adjusting the Users Role within the Edit User page.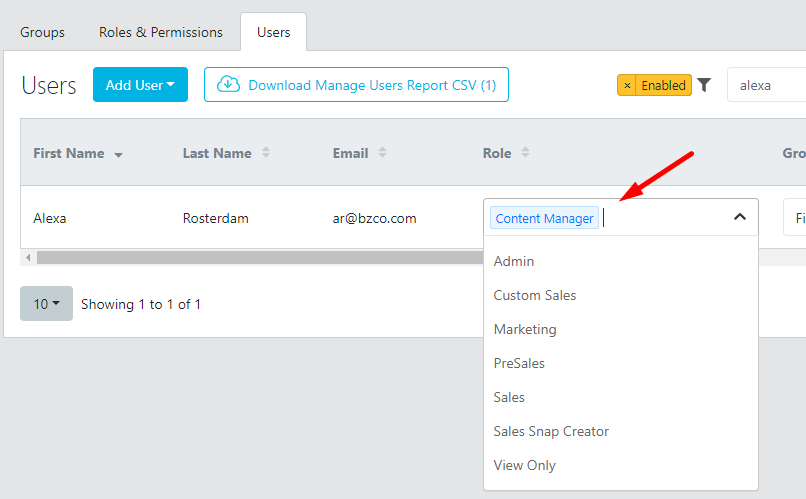 That's it! now your Users are set with their new Custom Role and can access the platform based on the permissions you have set for them.