Consensus is a powerful platform to house all of your video content whether it's a demo you create using our partnership with Screencast-O-Matic, existing video content you already have, or content you've produced by a third party. Consensus allows you to take advantage of insightful demolytics and full demoplayer functionalities with all of your content.
To create a new demo within Consensus you'll go to Demo Management > Create Demos > Select Standard Demo:
Standard Demo Structure - This allows you to provide an intro video and then let each viewer personalize their demo to their unique interests, based on the feature videos available to them within the demo. These are all tied to the full functionality of the demo player.
In the first step you'll be able to add the External (client facing) and Internal Titles for the demo. The Description is also client facing and is used to populate the post if a viewer decides to share your demo on their social media channels.
You also have the ability to dictate if this demo will be accessible to others within your organization or if you want to restrict access. You can customize who has access by selecting specific users or groups which have been created within Consensus.
In Step 2 you will customize the theme of your DemoBoard. You can choose from the Flat Design or the Transparent Flat Design (which gives you the ability to add an image behind the demoplayer). Next you'll choose the language of the demoplayer, we currently support the following languages:
English
Spanish
French
Portuguese
Czech
German
Italian
Russian
Japanese
Korean
Chinese
Swedish
Within the Contact Info section, you'll add a general company phone number, email, as well as links to your company social media channels.
The final thing you'll do in step two is add your logo, favicon, and dictate what colors you want to use for the demoplayer.
In Step 3 you'll upload the videos for this Standard Demo. First, start by adding your Intro Video (we recommend using an MP4):
Next you'll add the Feature Videos. These videos are what the prospect will pick and choose from when they're personalizing the standard demo. We recommend 3-5 features for a Standard Demo. You also have the opportunity to upload two video versions with the same feature subject. You could upload a 3 minute detailed video under the long video section and a 1 minute high level version of the same topic. If someone were to select this feature as Very or Somewhat Important they would get the longer version and the shorter version if they said it was not important.
In both the Intro and Feature sections you'll be able to upload Related Documents. These documents will show up in the demo footer while the prospect is watching the demo. If you add documents to the Intro Video section then those documents will show up on the demoplayer regardless of what the viewer picks in the personalization phase. If you add documents to a specific Feature Video then it will only show up on the demoplayer if the viewer thinks that feature is Very Important or Somewhat Important.
In Step 4 you'll be able to choose where the Share Prompt will populate within a Sales DemoBoard. You'll also be able to choose if you want to enable BuyerBoard for this specific demo. If you're interested in learning more about BuyerBoard see our article here.
Step 5 allows you to choose where the Lead Collection Form will populate for the public versions of your demo (using the demo on your website or sharing on your social media channels). We recommend placing the Lead Collection Form after the personalization phase. To do this you'll select "After X feature" and leave the number at zero:
You'll also be able to choose if you want to have Call to Action buttons populate on the demplayer. You can have up to four different CTA's on the demoplayer (along with the "Share This Demo" CTA if you're sending Sales demos).
Examples of what these CTA's look like on a Marketing (Public) and Sales (Personalized) DemoBoard:
Sales: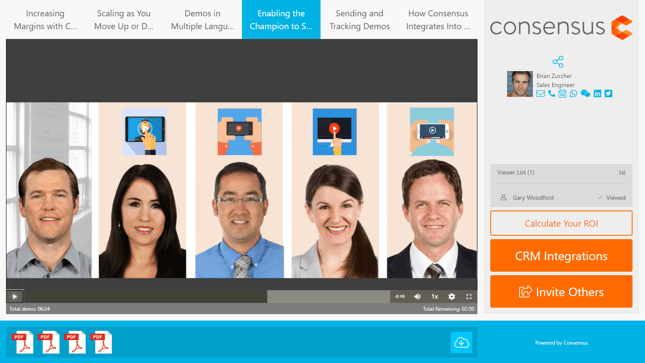 Marketing:
In the final step you'll be able to add your details for Web Analytics and Google Adwords tracking. From this step you'll also be able to preview how a demo looks/works when it's being used in a Marketing use case as well as how it performs when creating a Personalized DemoBoard for a client/prospects.
You now have a finished demo! Remember, there is no limit to the number of videos you upload to your account. Take advantage of Consensus' powerful demolytics by uploading all of your video content to your Consensus account.